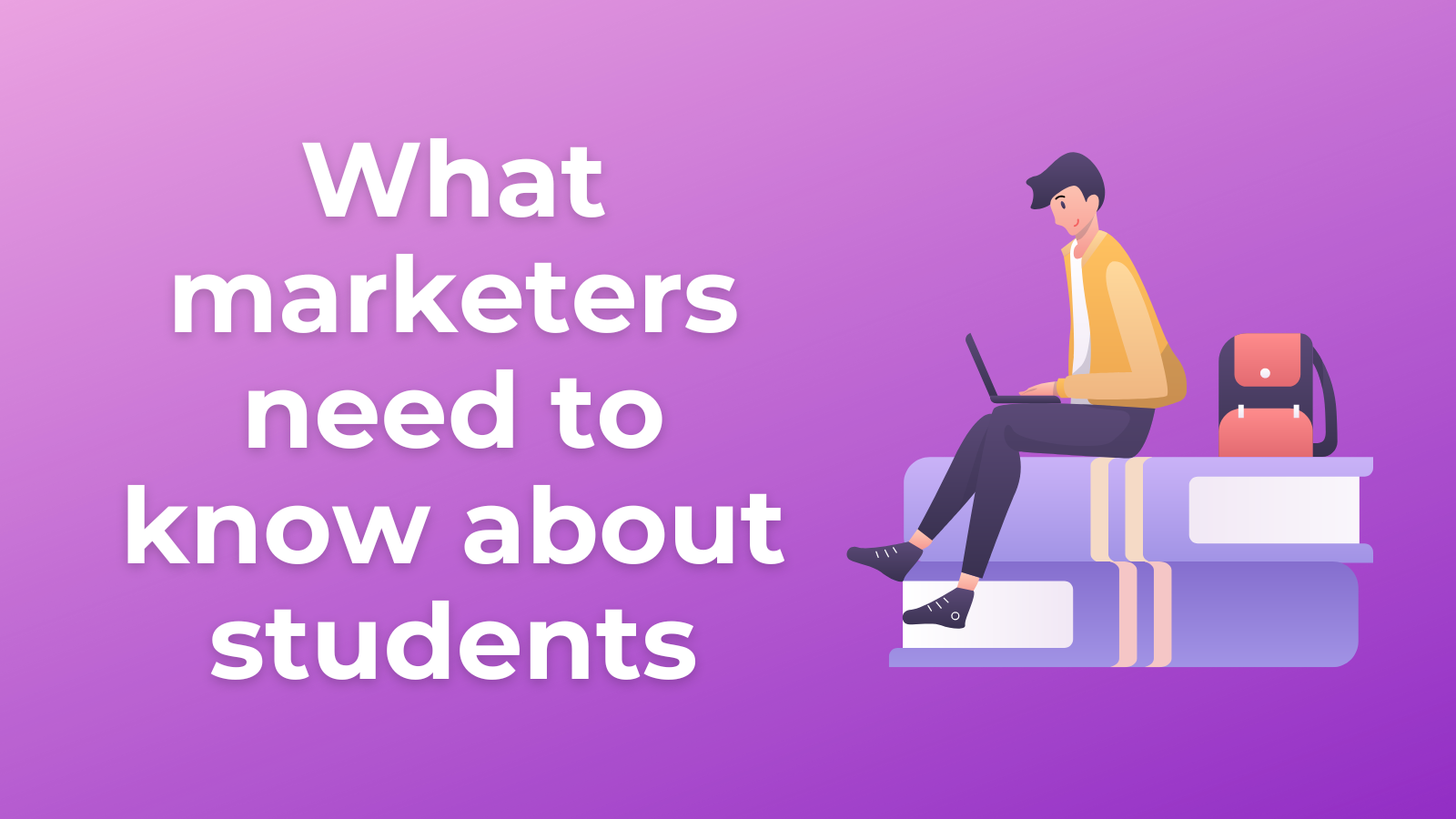 November 11, 2022

|

5 min Read
What marketers need to know about students
Modern marketing tools have made it easy to differentiate and target market segments. Targeting specific segments has many benefits; it allows you to have more powerful messaging, increases response rates, and lowers acquisition costs. Even though modern tools make it easy to target different market segments, many often ignore (or don't know enough about) the college and university student segment.
It might be tempting to assume that students are younger versions of your current customers or that they will age by a few years and become just like them, but this is far from the truth. Today's college and university students are part of the Generation Z (and to some extent Millennial) demographic and are quite different from previous generations.
Here are some things you should know about this generation of college and university students.
Students are a growing market segment
There are over 250 million college and university students worldwide. It is expected that by 2040 this number will more than double to over 590 million, with the majority of that increase happening in Asia. This represents a growth of approximately 4.2% every year! In the United States alone there are over 20 million college and university students with a steady increase of 2% per year.
Enrollment rates for students in the 20-24 age bracket have seen the biggest increase in the last decade, followed by 18-19 and 25-29. Students over the age of 24 often hold full-time jobs and are considered non-traditional students. These students must work harder to juggle their jobs and studies and often live off campus.
Students have spending power
College and university students have a buying power of over $500 billion and between jobs, student loans, and support from family earn a relative income of approximately $1,200 a month. Even with the rising cost of education students are still big spenders. Students spend over $27 billion annually on things like restaurants, fashion, electronics, and media in the United States alone.
Gen Zers have outnumbered Millennials and it is estimated that as of 2020 they make up more than 40% of U.S. consumers.
Students are sensitive to price
Students have spending power but do not like to spend frivolously. A recent survey showed that price is the most important factor in a student's buying decision. Gen Zers have been shown to be more selective when making big purchase decisions, often waiting for products to go on sale, and that they see value in discounts and rewards programs.
Technology has made it easy for students to compare prices and ratings of competing products and merchants. A survey of more than 1,800 Gen Zers shows that the primary motivator of deciding where to shop is price.
Students are less loyal than they used to be
Today's generation of student shoppers are not as loyal as those from past generations, and getting them to be loyal to your brand can be a challenge. The main reason for this is that they are led by price and not by brand. Students will choose one brand or product over another if the price is right.
Regardless, they still need to be nurtured. Failing to form relationships with Gen Z customers will doom brands to fail. This new generation of shoppers are willing to engage with brands that engage with them and seek brands with similar values and ethics.
Students want personalized experiences
Students are an incredibly valuable group that possess higher expectations when it comes to brand relationships. The expect to be provided with personalized experiences and studies show that they are more likely to purchase from a company that provides relevant content.
Gen Zers and Millennials think brands should provide a personalized experience and will stop visiting a brands website if it doesn't anticipate what they need, like or want.
Students are promoters and influencers
This generation of students actively make word-of-mouth recommendations and do so more than any other generation. They are a strong influence on people from all generations (even those who are older) and have an impact on how people consume and relate to brands. They trust their family and friends advice on products more than any other source and most will read a review online before making a first time purchase.
Students are privacy conscious digital natives.
Students have grown up with the Internet and understand its impact on society, both good and bad. They use the Internet and connected technology to communicate with friends and peers, to purchase things, and to express themselves. They understand that there are implications and risks in living their lives online and that information uploaded to the Internet can have permanence.
Even if they are willing to accept the risks of living online, they worry about how their personal data is used by companies. According to one study over three quarters of Gen Zers would consider leaving a brand after a data breach. It's important that brands do everything they can to protect the personal information and data of their customers.
Marketing to this generation of college and university students doesn't have to be a large undertaking or overly complicated. If you don't already target students, it's something that you should consider doing. Students are a growing market segment with purchasing power that increases as they get older. They are harder to turn into loyal customers but providing them with a personalized shopping experience with a discount will help. And lastly, they are strong influencers who not only can influence their friends and peers but also people of all ages.
Want to know even more about marketing to students?
Contact us today to learn more about marketing to college and university students.
Contact Us