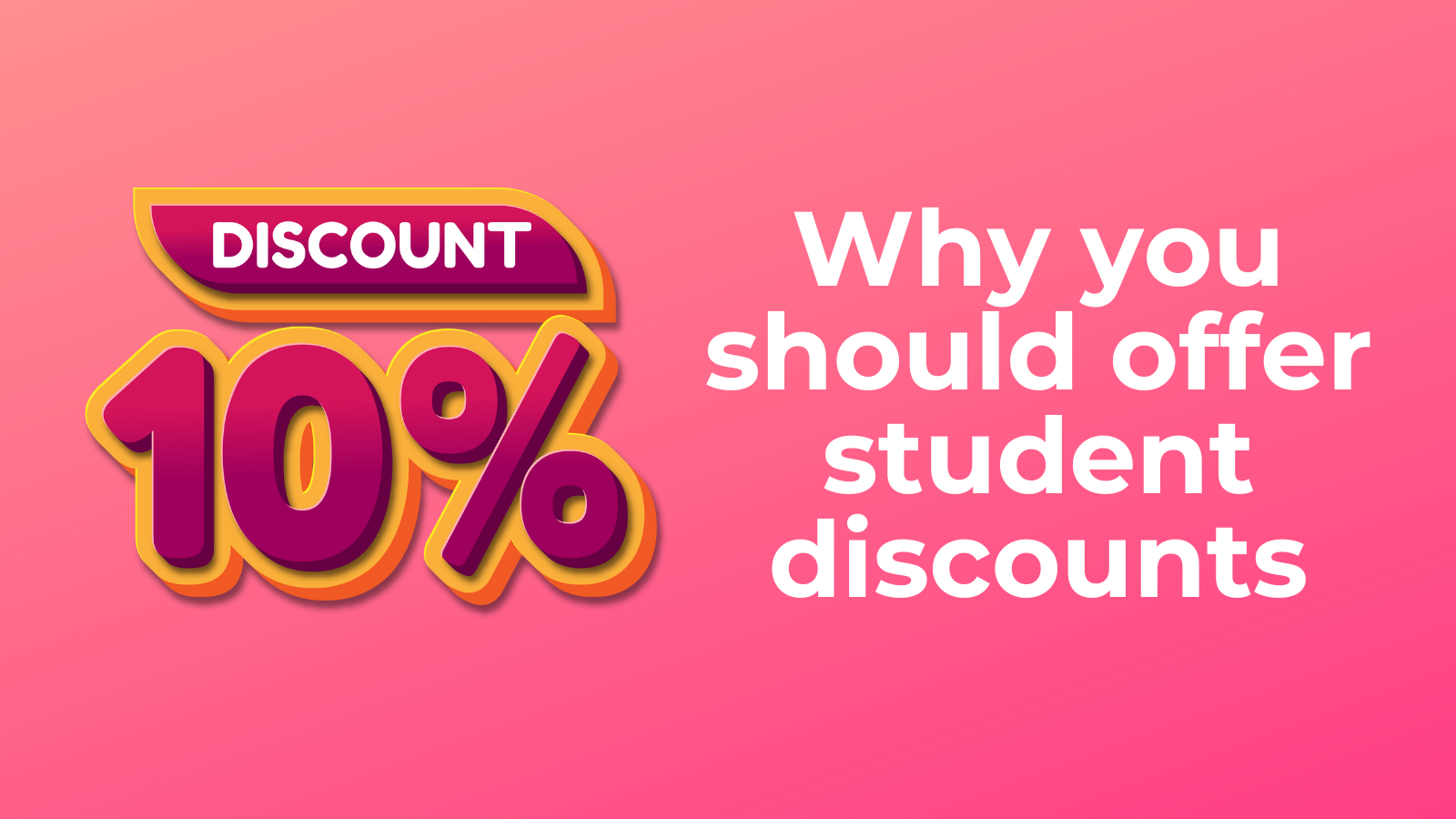 November 2, 2022

|

3 min Read
Why you should offer student discounts
Everyone wants to get the best deal they can on everything they buy. The Internet has made it easy to find a good deal. Buyers can quickly browse through the websites of multiple retailers and price compare or use purpose-built apps to build shopping lists and have prices compared automatically. It has become second nature for buyers to look for the best price before making a purchase online.
There's a long history of retailers giving customers discounts, even before the Internet age, and for good reason. Studies have shown that giving users a discount can increase sales between 130% - 530% depending on industry. There are many reasons why discounts help increase sales; they bring more users to your site, encourage users to share your brand or product to friends and colleagues, and increase the overall reputation of your brand.
Giving discounts to specific targeted user groups allows you to have more control over how discounts are distributed and it allows you to help those who might have less disposable income than your regular customers and may otherwise not buy from you. This is especially true for college and university students who have less spendable income than working adults. The rise in college and university tuitions and cost of living globally have made it harder to afford school than ever before. In the United States tuition for public and private 4-year colleges has grown 8 times faster than income.
The rising cost of education has forced students to be more stringent with their finances pushing them to seek deals and discounts. Price has been found to be the single most important deciding factor in a student's purchase decision, more important than brands. Price doesn't only impact what students buy, but also where they shop.
Many studies have shown that as consumers age they become more likely to purchase products from brands they are familiar with. As consumers approach their early 20's they reach one of the peak times of their lives where they are loyal to brands.
So, what can this mean for your business? By winning over students on price, and ensuring that they have a good experience with your brand, you will be able to retain their business as loyalty builds.
Student discounts don't only apply to consumer brands, they also make sense for enterprise brands. Students want to have access to products for their school projects off campus, and as they age they will eventually become those that influence purchase decisions and use the products in the work force. If done right students can be safely given large discounts on products that are normally too expense for normal consumers.
Giving students a discount isn't just charity, it's good business. By making a student discount or special offer available on your site you'll stand out from competing brands and win customers. With today's subscription economy and a shift towards services, first impressions with student consumers is all the more important.
Want to offer a student discount but unsure how to prevent fraud?
Contact us today to learn more about how academic verification can eliminate fraud.
Contact Us